Meet Our Donors
Success is Best When Shared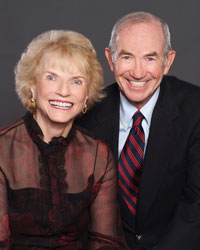 Joel Fedder is a man of great passions. Whether it's Sarasota Opera, the Jewish Federation, or his cherished collection of orchids, Joel is filled with an infectious energy when talking about something he loves.
Selby Gardens is one of those passions. Joel joined more than 30 years ago when he was still living in Baltimore, having heard about the fledgling botanical garden and orchid showplace in its early days. "I didn't know it was in Sarasota. I came down on business, and I came around the corner and saw the sign and said, 'Selby Gardens is in Sarasota!' I was so thrilled, because Selby Gardens is a national treasure."
It became a hometown treasure for Joel when he and his wife, Ellen, relocated here twenty years ago. "I wanted to get on the Selby board the minute I came down here," says Joel. Former trustee Elizabeth Holman, who still volunteers at the Gardens, was his gateway to the board, and Joel dove in headfirst, sharing his expertise as a lawyer and accountant.
He also began supporting the Gardens financially. He donated to the annual fund and a capital campaign, created an endowment to support a lecture series and ultimately, included Selby Gardens in his will. "I've always said success is best when shared. I'm fortunate to have been successful in business, and it's important to me to leave a legacy here as a way of sharing that success."
"We in Sarasota are privileged to have a vibrant arts and cultural community, and we should be very proud that Selby is a part of that. Selby Gardens' wellbeing is important to Sarasota and to our country, and it's worth supporting." Joel's passion will live on forever at Selby Gardens thanks to his bequest.
---
This Legacy of Love is a Perpetual Gift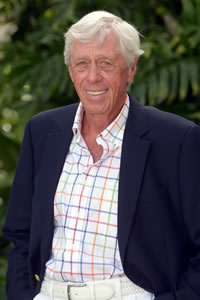 This is a love story.
It begins with a chemist and a middle school art teacher, originally from Chicago, who found their way to Sarasota County and Selby Gardens following a long ago honeymoon in South Florida. It ends with a shared love of this tropical, urban oasis on Sarasota Bay that has transcended one life and will come to have a lasting impact on the Gardens' ability to teach and inspire future generations of students.
Joseph and Margarethe Strosnik — Joe and Marge — initially fell in love with the bright, vivid colors of the Florida landscape and a climate that made year-round golf possible. So they made Bonita Springs an annual vacation destination before permanently relocating to North Port in 2006. That was when Marge fell instantaneously and hopelessly in love with Selby Gardens. "Any excuse to visit the Gardens was a good one," Joe recalls. "Whenever we entertained out-of-town company, Selby was at the top of any itinerary." She wasn't partial to any one particular area either — the entire Gardens was her paradise. She especially loved the ever-changing botanical displays in the Tropical Conservatory and "she would have flipped over the Children's Rainforest Garden."
Sadly, Marge lost a valiant fight against cancer before the Children's Rainforest Garden was completed. The love of Joe's life was born to teach — her passion for education was sealed forever during her 6th grade year. He wanted to do something special to memorialize Marge's legacy. With the help of his estate attorney and the Gulf Coast Community Foundation, he established a donor designated gift to the Gardens that, in his words, means "now she can teach forever."
"This gift is significant on many levels," explains Selby's Chief Development Officer Ann Logan. "As an annual gift it enables us to plan. During Joe's lifetime, he can envision and help shape the impact he wanted to have. And the $1 million legacy gift will serve to significantly enrich our educational offerings here in the Gardens."
Knowing this gift would make Marge happy brings Joe contentment. He is planning a jubilant celebration of life for his beloved soon in the Gardens they loved together. "Selby. Teaching. Kids. These are the things that mattered to her. When our friends gather here to remember Marge, hopefully they'll see she really isn't gone." The legacy of a life well-lived can now live on forever, bringing the wonders of the natural world to life for children who never got to meet — but will benefit from — the generosity of a very special couple.
HAVE YOU CONSIDERED CREATING A LEGACY AT SELBY GARDENS? Contact Ann Logan at (941) 366-5731, ext. 266 or alogan@selby.org.
---
Priscilla "Pep" Ruddiman
1931 - 2013
She Made Selby Her Gardens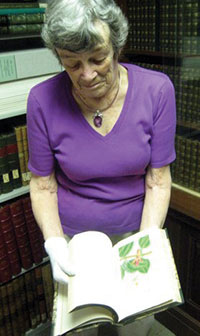 Retirement was not an excuse for Pep Ruddiman to rest on her laurels. Maybe that's why she logged more than 14,000 post-retirement hours volunteering at Selby Gardens.
Pep's generosity toward Selby Gardens even continued following her death last August. She provided resources in her will for the Gardens she loved to support botanical research, education, and horticultural displays.
Before she passed, Pep carefully planned her gift during conversations with Selby's development team. She decided to designate her funds for general endowment. So each year, her perpetual gift will help keep Selby Gardens growing and blooming for visitors' enjoyment where the funds are most needed.
Pep was an incredible woman – fascinating, intelligent, and generous. And it's no surprise her family is just as interesting and just as generous. Her daughter, Chari Wurtzel, is thrilled that her mother's spirit will live on through her gift. "It wasn't my money. It was Mom's to do with as she chose. Now I have the pleasure of seeing Mom's name all over the garden. I have the pleasure of seeing Mom's work moving forward. Children who never met Mom get to learn from her Gardens and enjoy them. How cool is that?"
While her passion and involvement with the Gardens will be missed, it feels like she never left because she has left an indelible mark on a place she cherished.
---
Joan Lipsky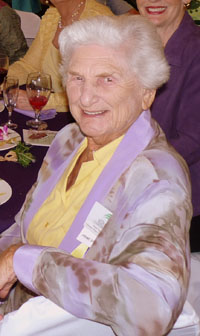 Joan Lipsky has spent her life giving to others. A former Iowa state legislator and lawyer, she also volunteered tirelessly for a variety of social service causes. Joan, a "snowbird" who's wintered in Sarasota for nearly 20 years, joined Selby Gardens in 1997. She volunteers in the Botany department as a plant mounter, preparing dried plant specimens for the Gardens' herbarium collection. The work she does will be used by scientists around the globe for decades, even centuries, to come.
When Joan decided that she wanted to make a long-term impact on the Gardens, she talked with her broker. "It was very easy to do." Using her own advisor kept the arrangements simple, and the financial instrument she used, a Charitable Gift Annuity, benefits her during her lifetime: "It's not a big sacrifice for me, especially since I get a small income from the trust." Joan's gift will be used to support the work she values most at the Gardens.
You'd be surprised how easy it is to make a planned gift to Selby Gardens. If you'd like to join Joan as a member of the Marie Selby Legacy Society, speak to your advisor or contact Ann Logan, (941) 366-5731 ext. 266, alogan@selby.org.
---
Marie Minshall Selby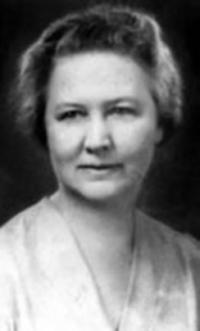 The gift of the Gardens was perhaps her most personal legacy.
Just a year prior to her death, Marie Selby established the legacy that was uniquely hers, putting her beloved bay front home and grounds into a trust that would bring Marie Selby Botanical Gardens to life. Marie left instructions to create "a botanical garden . . . for enjoyment by the general public." An avid gardener, Mrs. Selby loved nature and wanted to ensure that this waterfront home enclave would remain pristine, inviting and beautiful long after she was gone.
Today, Marie Selby Botanical Gardens is known around the world as a center for research on epiphytes, plants that live upon other plants. But, true to Marie's intentions, it is for the pleasure that its lush tropical beauty gives to thousands of visitors each year that the Garden is most widely known.
You can follow in Marie's footsteps by visiting the Gardens often and leaving a lasting gift to it.
---
Allison Archbold
Allison Archbold was new to town and looking for a place to meet people and feel like she was doing something good for her community. She began by volunteering at Selby Gardens' popular holiday lights celebration, Lights in Bloom – and quickly fell in love with this amazing Bayfront oasis.
Allison joined the Marie Selby Gardens Associates because it was another way for her to become involved at the Gardens that did not conflict with her busy work schedule. She actively supported Associates fundraisers, helped to plan meetings, acted as a hostess at luncheons and quickly came to the notice of Associates leadership. Last year, the organization's members elected her President, and she has made a tremendous mark on this active group of Selby Gardens fans and supporters.
Last fall, Allison decided to leave a more permanent mark on the Gardens by designating Selby as a beneficiary of one of her life insurance policies. "I am a wills, trusts and estates attorney, so I could have revised my own estate planning documents to include Selby, but it was much easier to complete the life insurance beneficiary designation form. It only took me a few minutes, but I know in the long term that those few minutes will be at least as valuable to the Gardens as the time I donate now." A former Marine, Allison believes strongly in supporting her country and the things she cares most about. "Joining the Marie Selby Legacy Society was a real feel-good decision for me."
---
Pattie Clendenin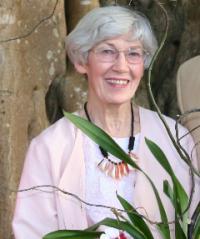 Pattie Clendenin loves plants, especially ferns. She traces her lifelong interest in them to her grandmother who kept ferns on the front porch of her North Carolina home. So, in the 1970s, when she and her late husband Bill first learned that Marie Selby had donated her waterfront property to start a botanical garden for the city of Sarasota, they knew they wanted to be involved.
Bill served as a trustee for a number of years and even did a stint as interim director. Pattie has been a horticulture volunteer since 1977. "They started me off helping with the orchids," Pattie explains, "about which I knew nothing. Soon they moved me to the ferns."
When you visit the Gardens, there is a good chance that some of the ferns you see are there because of Patti's dedication. Over the years, she and her husband brought back different specimens from their trips to Venezuela, Nicaragua, and even one trip to Ecuador with Cal Dodson, the Garden's first executive director. At home, Pattie propagated hundreds—maybe even thousands—of spores to grow ferns to share with Garden members at the annual meeting. "I used my home microwave to sterilize the soil," Pattie explains.
Being at the Gardens always brings a smile to Pattie's face, because for many years, the Clendenins included a weekly walk in the Gardens as part of their ritual. After church on Sunday, "Bill and I walked the Gardens before heading home to relax and read the paper." When she thinks of the Gardens she often thinks of Bill.
Over the years, Pattie and Bill witnessed the tremendous amount of work, including the research and plant care, that it took to make the Gardens the special place it is today. "People need to realize how much Selby Gardens means to Sarasota." To ensure that the Gardens is around for a long time, Pattie has included a bequest in her will. "Selby Gardens holds so much knowledge and it is wonderful for the community. There is nothing else like it." If you are considering making a legacy gift to the Gardens, Pattie's advice is: "Do it. You will love it."
---
Mary Jane Fabik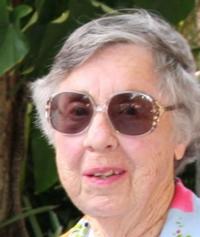 Over her 30 years as a volunteer, Mary Jane Fabik made a deep and abiding impact on Selby Gardens. She ensured that impact would continue well past her death by leaving a legacy of more than $120,000 to support the mission of the Gardens she loved.
Mary Jane and husband, Bob, started volunteering around 1980 after becoming Gardens members in 1976. They worked tirelessly on exhibits in the Museum of Botany and the Arts. "Mary Jane was totally committed to anything she did at the Gardens," says retired Selby volunteer coordinator Pam Eisele, one of the lucky few to penetrate Mary Jane's quiet exterior. "She was a spirit that will never leave me because she was unique."
After her husband's death, Mary Jane joined Pep Ruddiman in a complex project: a major reorganization of the Gardens' Research Library. "Mary Jane was a key member of our team of professional library volunteers," says Selby Botanist Bruce Holst. "She had a very inquisitive mind, and she liked to help out, solve problems – she was just the perfect person for that role." The value of the time and energy Mary Jane contributed to the Gardens is impossible to estimate.
Unlike Marie Selby, whose generosity made Selby Gardens possible, Mary Jane was by no means wealthy, but she was able to make the gift of a lifetime upon her death. Those lucky enough to know her were deeply saddened by her passing in 2009. Her generosity ensures that an organization to which she contributed so much time, attention, and love will continue the work she so highly valued.
---
Joe and Rogene Maher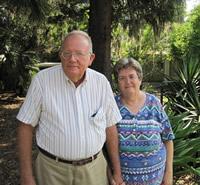 Joe and Rogene Maher loved talking about plants with Kevin Walker, who worked weekends for many years in the Selby Gardens Welcome Center. "He was so knowledgeable. And he liked to be there at the Gardens — it wasn't just a job. If it wasn't too busy, he'd jump right off his stool and say, 'I gotta show you this!' and he'd take us out to see some fascinating plant." Kevin has since passed away, but Joe and Rogene are still frequent visitors—and they recently decided to include Selby Gardens in their wills.
Joe and Rogene agree that this bequest is a gift from their hearts. When they thought about the places that mattered most to them, Selby Gardens was the one they wanted to remember in their wills. "It's a jewel in the middle of the city," says Joe.
The Mahers are now Founding Members of the Marie Selby Legacy Society, which recognized them—along with Marie Selby and many other legacy donors—at its first annual luncheon in November, 2011. Becoming a member is easy: just let us know that you plan to make a future gift to Selby Gardens. You can do so in your will, through an insurance policy or retirement plan, or using more modern mechanisms, some of which pay an instant return on your investment in the Gardens.
---